CYTOFLEX® TEXTURED TEF-GUARD®
I generally achieve good bone regeneration after 4-5 months of healing…I like the ease of use and would recommend Tef-Guard® products for socket grafting.– Dr. David Kao, DDS, 600+ Tefguard membranes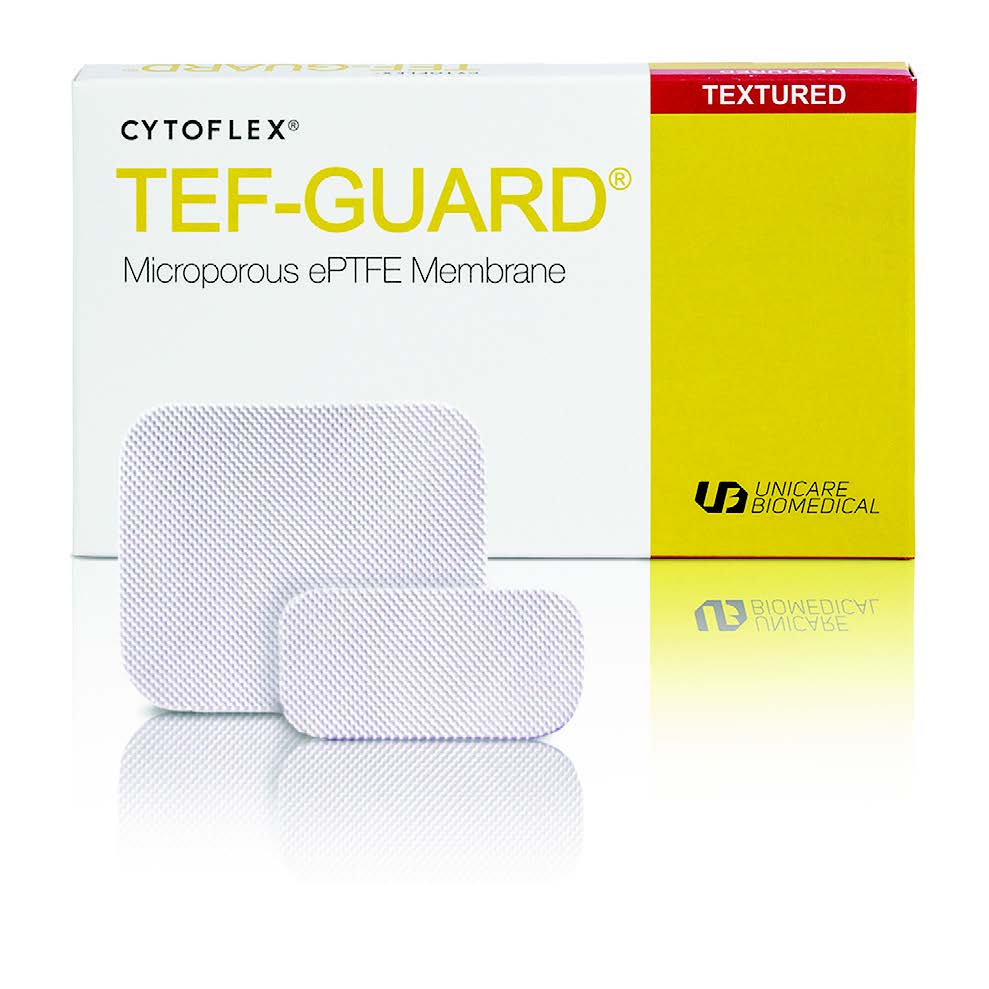 Cytoflex Textured Tefguard is a non-resorbable, space-making, barrier membrane intended for guided tissue regeneration procedures. Composed of proprietary micro-porous polytetrafluoethylene (ePTFE) thin film, Cytoflex textured Tefguard has a surface texture and porosity suitable for host cells to attach upon. The micro porous surface is designed to prevent bacteria from penetrating through the membrane while promoting diffusion of interstitial fluid for optimal healing. It also allows for improved adhesion between gingiva tissue and the membrane, preventing passage and integration of bacteria within the interstices of the material.
The supple membrane conforms easily to tissue contours and offers sufficient rigidity to maintain space over the bony defect. Compared the smooth version, the textured version has additional macro textured surfaces for greater flap attachment.
Availability
Each Cytoflex® Tefguard® membrane is provided double pouched and sterile.
| Cat. ID. | Products | Package |
| --- | --- | --- |
| C04-0101 | TEXTURED TEFGUARD TEX-100 | 12mm x 24mm, 1 / pk |
| C04-0105 | TEXTURED TEFGUARD TEX-100 | 12mm x 24mm, 5 / pk |
| C04-0201 | TEXTURED TEFGUARD TEX-200 | 25mm x 30mm, 1 / pk |
| C04-0205 | TEXTURED TEFGUARD TEX-200 | 25mm x 30mm, 5 / pk |
Q & A WITH AN EXPERIENCED TEFGUARD® USER
FAQ
Advantages of texture on both surfaces